Same-Day Back Pain Relief In Hudson
Welcome to The Chiropractic Place
At The Chiropractic Place, we understand how discouraging it can be to complete even the simplest of daily tasks when your back is hurting. Whether you suffer from chronic back pain or occasional flair ups here to alleviate the pain.
$49 Get Out Of Pain Special
We believe everyone deserves to live a life free from back pain.
Our Get Out Of Pain Special includes initial consultation, exam, state-of-the-art computerized spinal scan and follow up visit for a report of findings and doctor's best recommendation of care.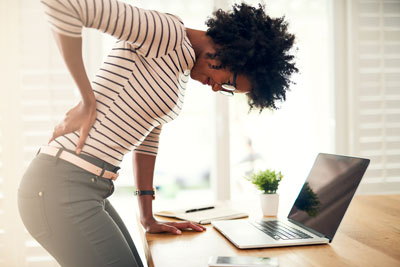 Back Pain Relief Without Surgery
Dr. Jason has helped many patients experience back pain relief without surgery. We employ natural, noninvasive chiropractic techniques to treat this chronic ailment.
Our methods are safe and effective, quickly relieving your back pain and allowing you to life free from pain.
Our unique approach to care gets you out of pain quickly and helps the body heal itself naturally to prevent future flare ups.
Take advantage of our New Patient Special for just $49 – call (234) 380-5351 now!

Back Pain Treatment For Everyone
Our office is friendly and accommodating, and children and adults alike love our care.
We offer convenient parking and same-day appointments. We also offer a $49 New Patient Special, accept most insurance plans making chiropractic care accessible for everyone.
Your health is priceless. Contact us today at (234) 380-5351 or book an appointment online.

Dr. Jason and his staff are beyond excellent. I've dealt with chronic back pain for many years and he is going the extra mile to help me find relief!! I recommend him to anyone!!

Dr. Jason you are cheerful and knowledgeable. Both your demure and knowledge of the spine made us feel at ease with something we were tentative about. It's also amazing that the office is kid friendly! We look forward to working together.

Dr. Jason's enthusiasm was appreciated! Good energy in the office. Love the Logo and feeling hopeful that he can help me feel better.

I appreciated Dr. Jason's detailed explanations.

Very very informative and helpful!

Very informative and a fun experience 

Great experience and very informative! I would recommend anyone to come here. Jason truly cares about your health and well being. Very family friendly practice! He even went out and bought crayons and coloring books in case I had my four year old with me!!!

Very personable and caring atmosphere!

I am so happy I decided to join the team! I was always a skeptic but boy was that a mistake! I wish I would have met your team sooner in life. I never felt rushed, uncomfortable or any kind of uneasiness. I was informed, educated and most importantly, feeling better! You all have put together a great atmosphere and do fantastic work! Keep up the great job!

Clean, professional, knowledgeable and very polite.

The experience was first class from start to finish. I am looking forward to working with the team at the Chiropractic Place for many years to come! 

Thank you for making my first appointment a great experience. I love the staff and the office is so clean and I love the decor!

In all the years I have been seeing a chiropractor, I have never felt better.

Great atmosphere! Highly recommend Dr. Jason!

I have been to a lot of chiropractors over the years, but none were as thorough or informative as Dr. Cerruti. He is excellent!

Dr. Jason is the best! He has help me so much with my chronic migraine problems. It has been the only thing that has helped me! Medicine is not the answer. Regular adjustments is the answer!
$49 NEW PATIENT SPECIAL
Includes initial consultation, comprehensive exam, state-of-the-art computerized spinal scan & follow-up visit with report of findings and doctor's best recommendation of care.
Call us at (234) 380-5351 today!

Book Your Appointment Online

You Don't Have To Live In Pain.
Call Us Today! (234) 380-5351

Fast Back Pain Treatment for Hudson, Streetsboro, Twinsburg and Surrounding Areas