Pregnancy Chiropractic in Hudson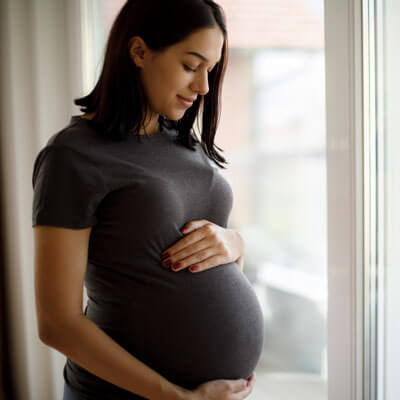 Whether you just found out that you're expecting or in your third trimester, you can benefit from natural prenatal care at The Chiropractic Place. Dr. Jason and our dedicated team are here to provide you with safe, gentle, and personalized chiropractic care that supports your natural wellness and helps you experience a smoother, more comfortable pregnancy.
We know that pregnancy can bring about various physical changes and discomforts. That's why our chiropractor uses gentle techniques such as the Activator and trigger point therapy. And with the use of specialized pillows, we ensure you can lie comfortably in positions that would otherwise be challenging, such as on your stomach. Our goal is to keep your body in alignment, effectively addressing the stresses that pregnancy places on your body.
NEW Patients »

The Benefits of Pregnancy Chiropractic Care
When you choose The Chiropractic Place for your prenatal chiropractic care, you can expect a range of benefits:
Our gentle adjustments and therapies help alleviate common pregnancy discomforts such as hip pain, sciatica, and foot pain. Addressing these issues creates a more comfortable environment for you and your growing baby.
We strive to promote a safer and faster delivery process through regular chiropractic care. By maintaining proper alignment and reducing stress on your body, we aim to facilitate quicker and smoother deliveries.
We believe every patient is unique and tailor our care plans accordingly. By conducting thorough evaluations and assessments, we develop custom care plans that meet your specific needs and goals. Our approach is never one-size-fits-all.
Supporting Both Mother and Baby
You may wonder if chiropractic care is safe for both Mom and Baby. Rest assured, we have extensive experience in providing safe and effective care throughout pregnancy.
Depending on individual circumstances, we adjust patients until they are 38, 39, or even 41 weeks pregnant. Our non-invasive approach ensures the utmost safety for both you and your baby.
Your Journey Starts Here
If you are considering prenatal chiropractic care, we encourage you to take the first step toward a healthier and more comfortable pregnancy. Book an appointment with our experienced chiropractor today and discover the benefits of our gentle, personalized approach.
CONTACT US »

Pregnancy Chiropractic Hudson, Streetsboro OH | (234) 380-5351