Sports Chiropractor In Hudson
Achieving Peak Performance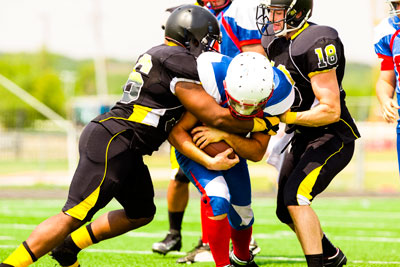 We emphasize injury prevention, as well as recovery/performance care to ensure they are prepared to compete at their best for any big game or tournament.
Our methods allow a faster recovery and pain reduction to allow the athlete to continue training/practice and competition whenever possible.
What Conditions Do We Treat?
Whatever your condition may be, The Chiropractic Place handles a wide array of prevention, maintenance and injury needs, as well as post concussion injuries.
Chiropractic care in the weeks following a concussion injury can reduce symptoms and speed up the return to play.
We are proud offer the $49 New Patient Special that includes initial consultation, comprehensive exam, state-of-the-art computerized spinal scan and follow-up visit with report of findings and doctor's best recommendation of care.
We have same day appointments, convenient hours and accept insurance.
Take advantage of our $49 New Patient Special. Book an appointment online or call us at (234) 380-5351 today.

We Understand An Athlete's Needs
Since starting his practice in 1998, Dr. Jason Cerutti has been helping athletes perform at their best. Dr. Jason's clinical training and experience with athletes make The Chiropractic Place the first choice and best resource for your child's injury evaluation and treatment.
It takes an athlete to treat an athlete
When Dr. Jason says he understands the needs of an athlete it's because he has experienced it firsthand. It was actually a football injury at 14 years old that made him decide to become a chiropractor.
Dr. Jason injured his neck during a football game and was experiencing severe pain with numbness and tingling in the fingertips. "My parents took me to the hospital, and we were told that I had a bulging disc that would require surgery."
The family took him to a chiropractor for a second opinion instead and opted to try chiropractic care. "Within days I was completely out of pain, and within two weeks I was back on the football field."
Dr. Jason can help you naturally heal faster, stay healthy and realize your potential on and off the field.
Call us at (234) 380-5351 or book an appointment online today!
Chiropractic Care For All Sports
football
basketball
baseball
cross country
track and field
lacrosse
soccer
softball
swimming
diving
triathlon
gymnastics
wrestling
tennis
volleyball
hockey
and more…

Book Your Appointment Online

Let Us Help You Reach Your Peak Performance.
Call Us Today! (234) 380-5351

Experienced Sports Chiropractor Serving Athletes In Hudson, Streetsboro, Twinsburg and Surrounding Areas